Reply to the Following Comment:
$10 Certificate From Eight Ball Restaurant & Bar
If you love eating well, shooting pool and having a great time, then head to Eight Ball Restaurant & Bar. Sample craveable favorites like their hamburgers, cheeseburgers, Philly Cheese Steak, BLT, fries and more. Your appetite is no match for their great dishes and you'll enjoy a relaxing atmosphere like no other.
More information and Specs
Valid 90 days from date of purchase. Valid toward food only.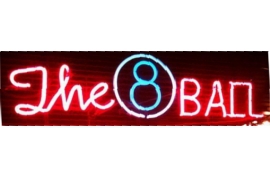 Additional Terms and Conditions
Standard terms and conditions apply. Please visit our Terms of Service Page for more details.
the food tastes great and the prices are super cheap! Cold beer, hot food, pool, football, and NASCAR!!
The 8-ball is the one of the best resteraunts/bars, that I've been into. People should come in and make themselves at home. The atmosphere in the place is great!!. I love their burger and fries meal.