Reply to the Following Comment:
Review and confirm your bid
Bids End: Aug 01, 2013 02:00 PM
less than a minute
Your Max bid: $
By clicking Confirm Bid you commit to buy this item from Seize the Deal if you are the winning bidder.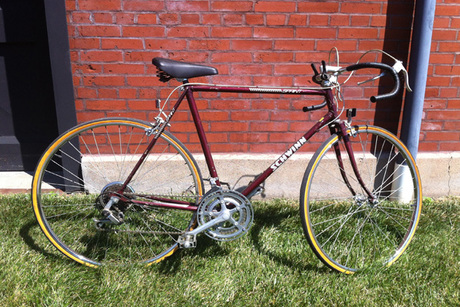 Pre-Owned Schwinn Sprint Men's Bicycle From Champion Bicycles
Bids End: Aug 01, 2013 02:00 PM
The Auction has ended! Thank you for your interest.
Pre-owned Schwinn Sprint men's Bicycle. 23" frame, 27" Wheels, 10 speed. New seat and new tape on handle bars from Champion Bicycles

Champion Bicycles came about from 15 years of experience. Steve is a factory-trained mechanic and has supported sales and co-managed bicycle shops in St. Louis. More recently, he had the opportunity to take part as a mechanic for the "Tour De Grove" sanctioned bicycle race
in downtown St. Louis.
More information and Specs
30 day warranty.
Terms and Conditions
Standard terms and conditions apply. Please visit our Terms of Service Page for more details.
Bid History
This item has been bid on 4 times
| Bidder | Price | Date/Time | Status | |
| --- | --- | --- | --- | --- |
| w*****n | $31.00 | 2013-08-01 13:58 CDT | Current top Bidder | |
| c*****l | 21.0 | 2013-07-31 11:48 CDT | Outbid | |
| m*****1 | 11.0 | 2013-07-31 11:48 CDT | Outbid | |
| c*****l | 1.0 | 2013-07-29 20:28 CDT | Outbid | |