Reply to the Following Comment: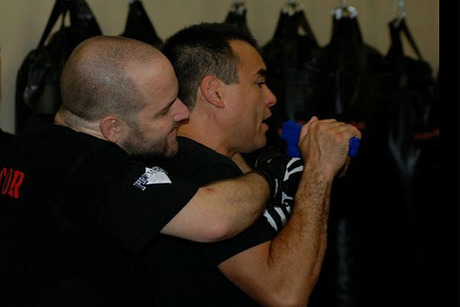 Two Weeks of Krava Maga Self-Defense Training
Krav Maga is the official hand-to-hand combat system of the Israeli Defense Forces, and the preferred system for U.S. Military and law enforcement personnel. At East Texas Krav Maga, you will learn to defend against common chokes, grabs and bear-hugs, as well as weapons such as guns, knives and clubs. Just as important, you will learn to function at your highest level during the stress and shock of a sudden, violent encounter.
More information and Specs
Valid 90 days from date of purchase.
Additional Terms and Conditions
Standard terms and conditions apply. Please visit our Terms of Service Page for more details.
From the moment I took my first class (it was a women's self-defense seminar) I have loved Krav Maga and been very impressed with Nathan - he truly cares about his students and that was obvious from day one. It's now 7 months since that first lesson and, despite a recent 2 month break due to various reasons, I am more fit than I've ever been in my entire life! I am truly amazed at the strength and endurance I have developed, and I'm just getting started! And to add to that, I now know how to defend myself in case of attack! WOO HOO! GET FIT, BE SAFE!!‎
From the moment I took my first class (it was a women's self-defense seminar) I have loved Krav Maga and been very impressed with Nathan - he truly cares about his students and that was obvious from day one. It's now 7 months since that first lesson and, despite a recent 2 month break due to various reasons, I am more fit than I've ever been in my entire life! I am truly amazed at the strength and endurance I have developed, and I'm just getting started! And to add to that, I now know how to defend myself in case of attack! WOO HOO! GET FIT, BE SAFE!!‎