Venue Map
Reply to the Following Comment:
Massage Services From Celtic Hands Therapeutic Massage
It's a stressful time of year, and those aches and pains aren't helping anything. It's time to feel better with Celtic Hands Therapeutic Massage. Choose between a 30-minute chair massage, full-body muscle massage, hot rock therapy or body work if necessary.
More information and Specs
No cash value; no cash/credit back. Valid 90 days from date of purchase.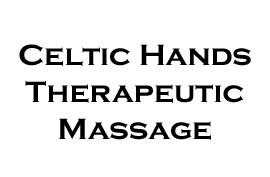 Additional Terms and Conditions
Standard terms and conditions apply. Please visit our Terms of Service Page for more details.