Reply to the Following Comment:
Tired of opening that can of tuna fish for supper? Enjoy an evening of social cooking in a relaxed, pleasant environment instead. Try a new recipe like Caesar Salad, Tortellini Soup, Stuffed Pork Chop, Seasonal Veggie or Chocolate Mousse. Best of all, it's dinner when you're through! The class is also BYOB, so come out and cook with Sue!
More information and Specs
Can only be used for classes. Must call to reserve seating. No credit/cash back.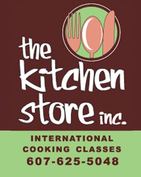 Additional Terms and Conditions
Standard terms and conditions apply. Please visit our Terms of Service Page for more details.