Reply to the Following Comment:
At Bee Bop's, you can listen to some swell tunes, experience the fun 1950's atmosphere and enjoy delicious dishes. Chow down on hamburgers, Paninis, wings and tasty sandwiches like The Brando. Be sure to get a homemade old-fashioned milkshake or a couple scoops of hand-dipped ice cream as well.
More information and Specs
Valid for 90 days from date of purchase.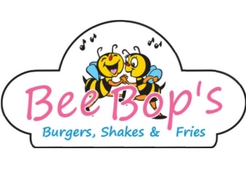 Additional Terms and Conditions
Standard terms and conditions apply. Please visit our Terms of Service Page for more details.
Just went "back to the future" for one of the best burgers is town at Bee Bops.
The food is Amazing. The service is very good and the staff makes you feel welcomed and Makes you feel like family and seem to love their jobs. The owners actually are very nice people... I love Bee Bops
I work in the downtown area and eat here a couple of times a week. Bee Bops has been a welcome addition to our dining choices. The hamburger steak platter topped peppers,onions and gravy is simply amazing!