Reply to the Following Comment:
Review and confirm your bid
Bids End: Mar 01, 2013 06:00 PM
less than a minute
Your Max bid: $
By clicking Confirm Bid you commit to buy this item from Seize the Deal if you are the winning bidder.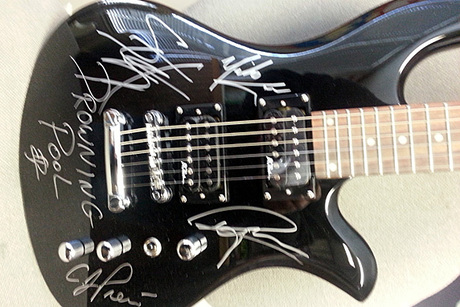 Black BC Rich Guitar Signed By Texas Rock Band, Drowning Pool
Bids End: Mar 01, 2013 06:00 PM
The Auction has ended! Thank you for your interest.
Black BC Rich guitar signed by all four current members of the Texas rock band, Drowning Pool.

All proceeds for this auction item will benefit St. Jude's Children's Research Hospital.
More information and Specs
Redeem at Townsquare Media, 3911 South 1st, Abilene, TX 79605.
Terms and Conditions
Standard terms and conditions apply. Please visit our Terms of Service Page for more details.
Bid History
This item has been bid on 28 times
| Bidder | Price | Date/Time | Status | |
| --- | --- | --- | --- | --- |
| s*****1 | $205.00 | 2013-03-01 14:17 CST | Current top Bidder | |
| e*****7 | 200.0 | 2013-03-01 14:17 CST | Outbid | |
| e*****7 | 195.0 | 2013-03-01 14:07 CST | Outbid | |
| t*****h | 190.0 | 2013-03-01 14:07 CST | Outbid | |
| t*****h | 185.0 | 2013-03-01 13:59 CST | Outbid | |
| e*****7 | 180.0 | 2013-03-01 13:59 CST | Outbid | |
| e*****7 | 160.0 | 2013-03-01 13:57 CST | Outbid | |
| t*****h | 155.0 | 2013-03-01 13:48 CST | Outbid | |
| e*****7 | 150.0 | 2013-03-01 13:48 CST | Outbid | |
| e*****7 | 140.0 | 2013-03-01 13:39 CST | Outbid | |
| t*****h | 135.0 | 2013-03-01 13:28 CST | Outbid | |
| j*****d | 130.0 | 2013-03-01 13:27 CST | Outbid | |
| j*****d | 125.0 | 2013-03-01 13:27 CST | Outbid | |
| e*****7 | 120.0 | 2013-03-01 12:48 CST | Outbid | |
| f*****n | 115.0 | 2013-03-01 12:48 CST | Outbid | |
| e*****7 | 110.0 | 2013-03-01 12:47 CST | Outbid | |
| f*****n | 105.0 | 2013-03-01 12:47 CST | Outbid | |
| e*****7 | 100.0 | 2013-03-01 12:21 CST | Outbid | |
| f*****n | 95.0 | 2013-03-01 08:38 CST | Outbid | |
| e*****7 | 90.0 | 2013-03-01 08:38 CST | Outbid | |
| e*****7 | 85.0 | 2013-02-28 21:15 CST | Outbid | |
| f*****n | 80.0 | 2013-02-28 08:53 CST | Outbid | |
| t*****h | 75.0 | 2013-02-28 08:53 CST | Outbid | |
| t*****h | 70.0 | 2013-02-28 08:53 CST | Outbid | |
| f*****n | 65.0 | 2013-02-28 08:53 CST | Outbid | |
| t*****h | 60.0 | 2013-02-28 08:52 CST | Outbid | |
| f*****n | 55.0 | 2013-02-28 08:52 CST | Outbid | |
| t*****h | 50.0 | 2013-02-26 18:16 CST | Outbid | |