Reply to the Following Comment:
Review and confirm your bid
Bids End: Aug 02, 2013 07:00 PM
less than a minute
Your Max bid: $
By clicking Confirm Bid you commit to buy this item from Seize the Deal if you are the winning bidder.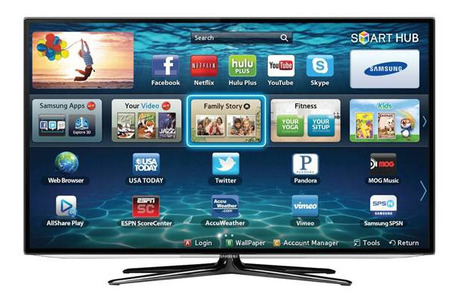 55" Samsung TV From Costco
Bids End: Aug 02, 2013 07:00 PM
The Auction has ended! Thank you for your interest.
55" Samsung TV From Costco

Product Description

Move from the ordinary into the extraordinary with the Samsung 55" 1080p HD TV. The Samsung UN55ES6150F is more than just a television; it's also a SMART TV that lets users surf and stream online videos directly into their TV. With a wireless LAN built into the TV, setting up the Internet connection is a snap even for those who've never done it before. Easily watch videos on Youtube, Netflix, or any other online site. A true HD experience, the Samsung 55" 1080p HD TV uses an amazing 1080p resolution for eye-popping images beautifully displayed on this LCD TV. LED backlights help keep the energy cost of the Samsung UN55ES6150F down while also improving picture quality so that deep black colors are highly accurate. There are no washed out dark colors on this LCD TV. Includes HDMI connections so that the TV can work with all other HD devices in the home theater system. For a TV that does more, choose the Samsung 55" 1080p HD TV.
Technical Details
Brand Name: Samsung
Display Size: 55 inches
Image Contrast Ratio: 4500000:1
Resolution: 1080p
Product Details
Product Dimensions: 49.3 x 1.2 x 29 inches ; 35.7 pounds
More information and Specs
No credit/cash back. Expires 90 days from date of purchase.
Terms and Conditions
Standard terms and conditions apply. Please visit our Terms of Service Page for more details.
Bid History
This item has been bid on 8 times
| Bidder | Price | Date/Time | Status | |
| --- | --- | --- | --- | --- |
| k*****6 | $1,128.00 | 2013-08-02 19:57 CDT | Current top Bidder | |
| t*****5 | 1078.0 | 2013-08-02 19:56 CDT | Outbid | |
| k*****6 | 1028.0 | 2013-08-02 19:50 CDT | Outbid | |
| t*****5 | 978.0 | 2013-08-02 19:50 CDT | Outbid | |
| t*****5 | 928.0 | 2013-08-02 18:08 CDT | Outbid | |
| j*****3 | 878.0 | 2013-08-02 14:04 CDT | Outbid | |
| o*****a | 828.0 | 2013-08-01 08:34 CDT | Outbid | |
| g*****f | 778.0 | 2013-08-01 08:22 CDT | Outbid | |